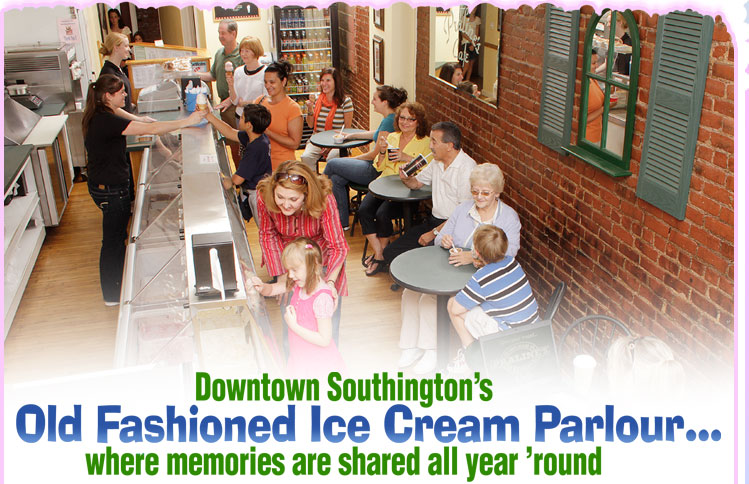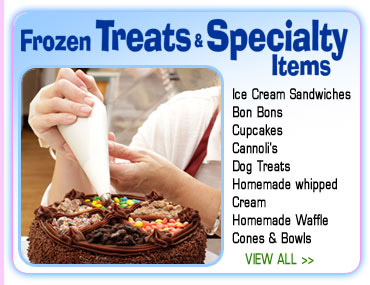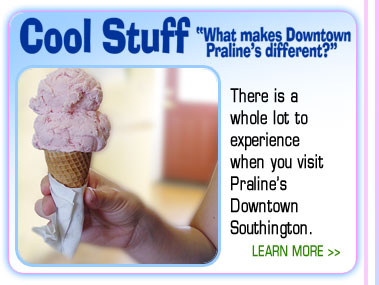 Southington's Finest Ice Cream Emporium:
Over 50 Unique Flavors to Choose From
Praline's Cafe Downtown Southington Ice Cream Emporium has the largest variety of ice cream flavors and products around. Over 50 varieties to choose from including specialty items, custom ice cream cakes and delectable pies ... our frozen tasty treats are available year 'round. Special dietary items such as sugar free and gluten free products are available regularly; we even have a frozen treat for your dog! There is something for everyone at Praline's Cafe ... even for the most discerning palettes.
Want to have fun and tasty frozen treats at your next special event? Call us for details on ice cream socials and custom birthday cakes. We also offer seasonal flavors of ice cream and specialty cakes and pies. Call for availability: 860.620.9226.
Looking for the perfect gift to satisfy their sweet tooth? Praline's Cafe Gift Certificates are available in any amount. We accept all major credit cards. Open 7 days-a-week, all year 'round, Praline's Cafe Downtown Southington has what you need to make your birthday, holiday, or anyday special.
GIFT CERTIFICATES AVAILABLE
Open 7 days a week April - September

Fall hours (September)
Mon - Thurs: 3:00 - 9:00pm • Friday: 3:00 - 9:30pm
Sat: 12:00 - 9:30pm • Sun: 12:00 - 9:00pm
(October)
Mon: Closed • Tues - Thurs: 4:00 - 9:00pm • Friday: 4:00 - 9:30pm
Sat: 12:00 - 9:30pm • Sun: 12:00 - 9:00pm

Winter hours (Nov - Feb)
Mon - Wed: closed • Thurs 4:00 - 9:00pm • Friday: 4:00 - 9:30pm
Sat: 12:00 - 9:30pm • Sunday: 12:00 - 9:00pm

Spring hours (March)
Mon: Closed • Tues - Thur: 4:00 - 9:00pm • Friday: 4:00 - 9:30pm
Sat: 12:00 - 9:30pm • Sun: 12:00 - 9:00pm
(April)
Mon - Thur: 3:00 - 9:00pm • Friday: 3:00 - 9:30pm
Sat: 12:00 - 9:30pm • Sun: 12:00 - 9:00pm
(Spring hours are subject to extended hours, weather permitting)

Summer hours (May - Aug)
Mon - Sun: 12:00 - 10:00pm
(Closed Easter, Thanksgiving, Christmas and inclement weather)